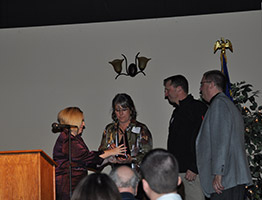 GreatLife Golf & Fitness at De Soto began its history in 2001. Built as the Burning Tree Golf Club by Bob Hill, the 9-hole, par 35 course has a total yardage of 5442 yards and a course rating of 67.1 with a slope rating of 114. The course was sold to Bob & Linda Stevens in 2004 and remained a staple in the De Soto, Kansas golfing community until 2010 when it was closed.
In May of 2012, the Burning Tree Golf Course was reopened by Mike and Mark Mallory as a part of the GreatLife Golf & Fitness brand. Building on to what was already an important part of the recreational community in De Soto, the GreatLife team also opened a fitness center in November 2012, at 32905 W. 84th Street. The fitness center, located inside DeSoto City Hall, on the stage of the community center gymnasium, is open 24/7 and includes: free weights, nautilus equipment, elliptical units, treadmills, recumbent bikes and stationary bicycles.
Since reopening the golf course, the team at GreatLife Golf & Fitness at De Soto have been overwhelmed by the support from the community of De Soto.
At the De Soto Chamber of Commerce Annual Dinner in January 2013, GreatLife at De Soto was named the "New Chamber Member of the Year" award.
Then in January 2014, GreatLife at De Soto Manager, Stephanie Swenson was honored with the "Ambassador of the Year" award.
Community Involvement
De Soto Chamber of Commerce

Hosted the Chamber Golf Tournament
Hosted Monthly Chamber Luncheons
Sponsored "Cooking on the Kaw" BBQ Contests
Sponsored "Night on the Kaw" Country Concerts
Cash Mob Sponsor
Sponsored Chamber Office Move to City Hall location
Sponsor Chamber Open House
Sponsor Annual Chamber Dinner

De Soto Chamber of Commerce Ambassador Member
Economic Development Council Member
De Soto City Fourth of July Festival
De Soto Days Labor Day Festival
De Soto Rotary Sponsor

Sponsored the Rotary Youth Camps
Sponsored "WineSong Riverfest"